June 12, 2014
Behind-the-Scenes at NCAD's 2014 Graduate Exhibition
Emily Brennan, Account Executive with DHR Communications, takes us on a behind-the-scenes tour of the National College of Art and Design's 2014 Graduate Exhibition, which opens tomorrow, Friday 13th June.
It's not every day your job allows you to wander around an art and design exhibition for an afternoon, but that's exactly what we got to do earlier this week, when my colleague Martina Quinn and I were given a preview tour of NCAD's 2014 Graduate Exhibition.
Martina and I spent approximately two hours touring the faculties, but we could easily have spent an entire day! The exhibition fills every nook and cranny of NCAD, and spreads into the adjoining buildings. We met with Professor Philip Napier, Head of Fine Art and Sculpture, who provided us with an insightful commentary as we wandered around the Granary Building.
'Den', by Aoibhinn O'Dea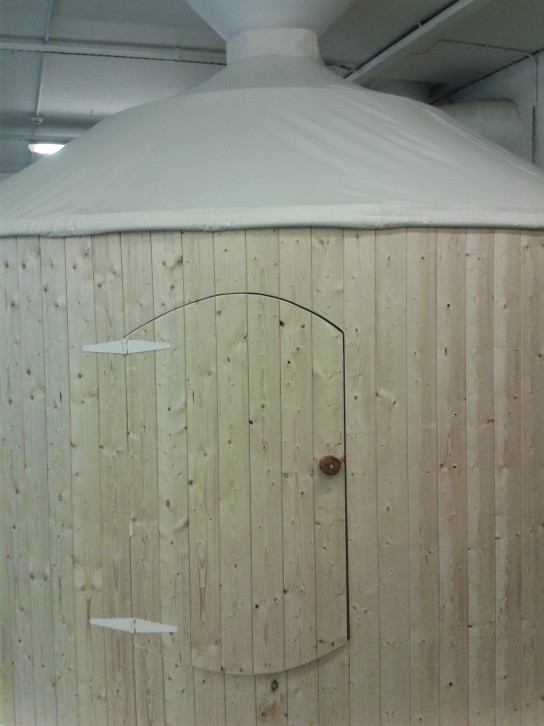 Firstly, on entering the exhibition space, we were met with the sight of a large wooden cyclical structure, see above. We tentatively entered through a small door, and were met with another wooden cyclical structure inside with an even smaller door, inside of which was a wooden staircase and a video installation. I was half expecting a talking rabbit to appear any minute. The installation, 'Den', by Aoibhinn O'Dea is based on the idea of seeking refuge from grown-up society.
'Grounds for Play', by Aoife Irwin-Moore
Another highlight from Fine Art and Sculpture was a large wooden slide, located beside NCAD's Red Square, by Aoife Irwin Moore, which aims to deconstruct the playground as a distinct space for play. Aoife's installation also included a number of go-carts, which she built in collaboration with local children from Dublin 8, as part of her final-year Sculpture project, 'Grounds for Play'.
'Permission Sought', by Avril Corroon
Avril Corroon's project 'Permission Sought' was particularly interesting, comprising of a custom-built flag-pole, from which a 100 metre rope is stretched across NCAD's campus and into a room in an adjoining building.
'Playing with Colour' by Danielle Brogan
A stark contrast to some of the more conceptual projects, in the Textile Art and Artefact exhibition area, Danielle Brogan's colourful collection, 'Playing with Colour', could well be imagined displayed in Avoca!
'What's left behind shows who you are', by Julianna Szabo
Sharing an exhibition area with Textile Art and Artefact, are projects by Visual Communication Students, including Julianna Szabo's project 'What's left behind shows who you are', aiming to raise awareness of chewing gum as litter.
Fashion
While making our way through the Industrial Design exhibition we came across Fashion students hard at work preparing their space – a big difference from the glitz and glamour of the Fashion Show a few weeks ago!
'This is Knot Jewellery' by Rebecca Maddock
Our last stop for the day was at Jewellery where Rebecca Maddock's project 'This is Knot Jewellery', produced using human hair intrigued and made me slightly uncomfortable at the same time!
Luncheonette
We finished our preview in the cool and calm surroundings of Luncheonette with a well-earned brownie. If only every day was like this…
NCAD's Graduate Exhibition opens this Friday, 13th June and runs until Sunday 22nd June.
For further information see: http://www.ncad.ie/about/ncad-season-of-exhibitions-2014/graduate-exhibition/
#seeNCAD