November 19, 2014
'Building Trust, Reputation and Culture' more important than ever
DHR Account Manager Sarah Harte spent last Tuesday in Dublin Castle at the Business in the Community Ireland Responsible Business Forum, here she shares what she learned on the day.
'Building Trust, Reputation and Culture' was the theme of this year's Business in the Community Ireland forum, which in my opinion couldn't come at a more opportune time. After the challenges that we have experienced in recent years, on a national and global level, the need for reinforcing transparency and accountability in business is more important than ever before.
We must learn from the mistakes of the past and move towards more responsible and sustainable business practices, if we are to succeed – especially in a world where everything is laid bare on social media and there are few places to hide.
The one-day Business in the Community Ireland Responsible Business Forum was broken up into three panel sessions, and a 'Responsible Business Lab'. The Responsible Business Lab was an interactive session, where delegates were seated at a table and each given a role in an imaginary company (incl. CEO, Head of Finance, Head of Marketing, Employee, Customer, etc.) Each table was given a few minutes to go through a series of 'dilemmas' ranging from product packaging to employee health and safety issues. We were each to assume the responsibility and point of view of our given roles within the organisation, and to discuss (and argue!) our decision on the best approach.
It was a fantastic exercise (and a perfectly timed element, given the usual post-lunch slump at conferences) which gave us time to interact about the issues at hand and really think about and discuss the everyday dilemmas facing businesses that want to operate responsibly. Balancing the need for long term sustainability with short business needs is no easy task.
'Would I do it to my mammy?'
The first panel of the day focused on setting the context and focusing on what challenges are facing big business now. I was very impressed with Lloyd Burdett, Head of Global Clients and Strategy at The Futures Company – whose engaging speech opened up the conference. Burdett focused on how business operates in the 21st century and that resource shortages (water, energy, food) and digital technology will be the key drivers and challenges into the future. According to Burdett, we are changing what we sell, in these 'VUCA' times (Volatile, Uncertain, Complex, Ambiguous) and moving from closed business models to a more open approach.
His three guiding principles for action were: 1) organisational culture is more important than strategy; 2) internal values are more important than external values; and 3) connections are key – driving down cost and driving up engagement. And before making a decision, firms need to ask themselves 'Would I do it to my mammy?'
Paul Marshall from CIPD, spoke about the relationship between employer and employee being about mutual respect and relevance. As an employee, Marshall said, you need to be included in the conversation, with the freedom to make decisions. In addition, Marshall noted that we need to examine prejudices and put team goals ahead of personal objectives. In the 21st century economy, we need diversity of skills and perspective in order to excel. Marshall added that we should aim to hire a mix of introverts and extroverts and aim to not hire in our own image – very interesting points!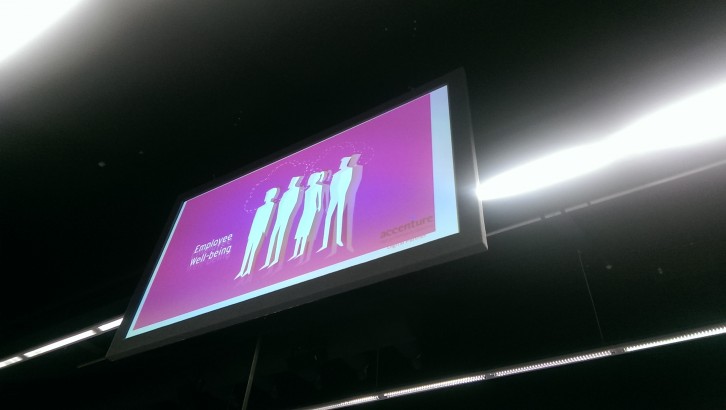 Dr Sheila Killian, Assistant Dean, Research at the Kemmy Business School, University of Limerick, spoke about the word 'responsibility' and explored the definition of what it means to be 'responsible'. According to Dr Killian, quite often it is associated with blame or a 'coming of age' when you have more responsibilities than before. She pointed out that the dominant element of responsibility is leadership; it is pivotal and therefore responsible business practices and behaviour needs to trickle down from the top. She echoed Tina Roche, CEO of BITCI, who noted in her opening address to the conference, the importance of human rights and how the NGO community needs to be speaking to the business community and vice versa. We can't all be in our silos not talking to each other, and we need to come together to discuss ways to create solutions to global challenges.
Winning Back Trust
The second panel discussion was incredibly interesting as it was focused on 'Winning Back Trust' and we heard from members of the banking, oil and chemical industry.
Professor Ciarán Ó hÓgartaigh, Dean of the UCD School of Business, chaired the panel, opening with what he tells prospective students when they ask why they should study business: 1) job prospects, 2) to see the world (different geographies, cultures and lifestyles), and 3) to change the world – business leaders make decisions which have a significant impact on society.
Michael Crothers, MD, Shell E&P Ireland Ltd, spoke frankly about the mistakes that the company made in Mayo. The significant controversy over the Corrib gas project, according to Crothers, was down to major errors on Shell's part including ineffective communications and not engaging with the community in Mayo. He said Shell "failed to empathise with the community", the conversations they had were overly technical, and they also lacked a local staff presence. Lessons they have learned from Corrib include the importance of building foundations of respect, understanding and trust. He said that they have learned that they must establish and maintain trust through stakeholder analysis, having local advisors in place, engaging early and "leaning in to challenges" as well as building a coalition of credible, external third parties.
"Engaged in the exuberance and froth of growth"
Penny Hughes CBE, Non-Executive Director of RBS Group, spoke of how, in the past, the banking sector was "engaged in the exuberance and froth of growth" and that stakeholders were not listened to. Social media was also discussed as making a fundamental difference to trust, and Hughes spoke of the "undoubtable influence" that social media has made. Shell, however, spoke of how they are slow to adopt to this form of communication and engagement.
I attended the 'Building Trust, Reputation and Culture with Employees' breakout session, and heard from Brendan Cannon, Technical Assistant to VP, Intel Education at Intel Corporation. Cannon enthused about the sense of mission that companies must have when it comes to responsible and sustainable business practices – "What's the dog going to do when it catches the car?" – companies need to deliver on their commitments. According to Cannon, employees need to buy into what you are selling to them, and strategy alone sits on a page. Again, Lloyd Burdett's words echoed through the day – "organisational culture is more important than strategy". It will be revealed if your company is saying one thing, yet doing another, "revealed preference".
It's all about Organisational Culture
In the final session of the day, there was a discussion on the 'new business model' and how sustainability must be embedded at the core. We heard from Marks and Spencer; Friends First; and Unilever, who discussed their approach to sustainable business and what they have learned in the process. Carmel McQuaid of Marks and Spencer highlighted the importance of culture and how you have to embed sustainability so much that it is what you do even when you are under pressure. She also said that the hardest people to engage with were the most important people to engage with.
Geoff McDonald, former Global VP Human Resources, Unilever, discussed the shift from selling 'brands' to selling 'experiences', from being the best company 'in' the world, to the best company 'for' the world, from marketing to consumers, to "mattering to people".
All companies on the panel agreed on the need to take the customer on the journey to sustainable business with your company. However, unfortunately sometimes this can be seen as "preaching", so companies must learn how to deliver and target customers in an exciting and engaging way e.g. instead of telling customers not to buy new clothes every weekend, Marks and Spencer is teaming up with Oxfam and Joanna Lumley for 'Schwop shop' to promote swapping clothes, and therefore working towards a more sustainable supply chain. Customers must be put at the heart of it.