September 17, 2015
Top Picks for Culture Night 2015
Here in DHR Communications, we consider ourselves to be culture vultures, so it's no surprise that Culture Night 2015 is one of the highlights in our calendar! Culture Night is taking place nationwide this Friday, 18th September, with hundreds of arts and culture organisations opening their doors to the public.  Some of our fantastic clients are also involved in Culture Night,  and below we have outlined what you can expect from them, as well as some of the exciting events taking place right here in Dublin 8. DHR's Emily will also be volunteering with Culture Night in the Merrion Square area, so be sure to say hello!
The Broadcasting Authority of Ireland
The Sol Cinema and the Listening Lounge are back for the Broadcasting Authority of Ireland's Culture Night celebrations. Both showcase some of the programming the Authority funds. The solar-powered mobile cinema's showreel features projects from Cartoon Saloon, Jamie Lee Dalton, Tile Film, Pursuit and much more. Meanwhile, radio fans can look forward to an audio montage featuring excerpts from a range of programming from stations across the country. These include WLRFM radio drama Strongbow's Clock, Newstalk's Breandán Ó Beacháin documentary and RTÉ Radio 1's Vocal Chords. The BAI's office at 2-5 Warrington Place, Dublin 2 will be open from 5pm to 10pm and there's no need to register in advance.
Further information available here: http://www.bai.ie/index.php/2015/08/bai-culture-night-2015-event-announced/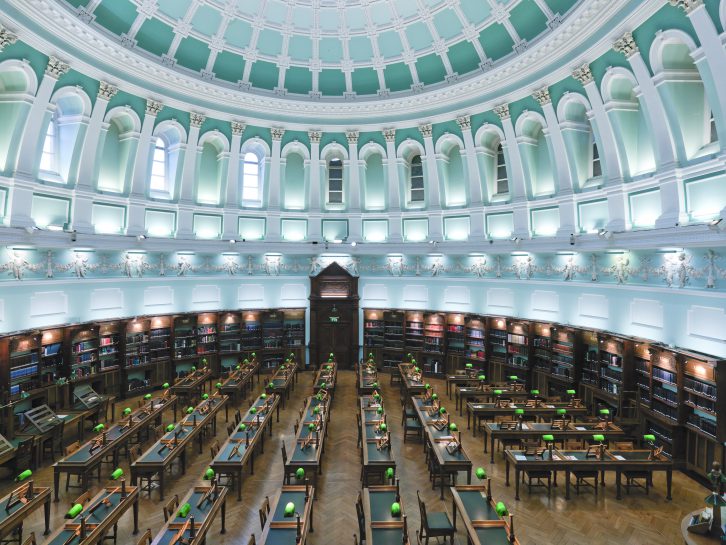 The National Library of Ireland
Visitors to the National Library of Ireland on Culture Night will enjoy a free evening of entertainment, discovery and adventure. There will be music in the front hall, family trails and more!
Highlights of the NLI's Culture Night events include:
A reading by Irish columnist, playwright and scriptwriter, Fiona Looney, at 7pm.
Free advice on researching family history, as part of the NLI's Genealogy Advisory service.
Explore the two current exhibitions at the NLI, Kildare Street; 'Yeats: The Life and Works of W.B.Yeats' and 'WWI Ireland: Exploring the Irish Experience'.
Visit the beautifully designed 'Reading Room', a renowned part of the NLI.
Café Joly will be open where visitors can enjoy a relaxing break.
Visitors can also pop over to the National Photographic Archive in Temple Bar to view the 'Portraits of the Invisible: the Irish in WWI' exhibition.
Doors will be open from 5pm – 11pm and all are welcome! For more information, visit www.nli.ie.
The National College of Art and Design
As part of Culture Night, NCAD Gallery is playing host to ∞ (Broken Mirrors), a two person exhibition featuring artists Jonathan Mayhew and Lee Welch, curated by Marysia Wieckiewicz-Carroll. The exhibition broadly explores the concept and representation of the future in a contemporary context. Through the medium of print, sculpture and photography this show will speculate about both the future's potential and legacy. Near FM will also broadcast live on site, conducting artist interviews and commentary on Culture Night 2015.
The exhibition will be open from 5pm and further information is available here: http://www.ncad.ie/gallery-event/view/culture-night-2015
St Patrick's Cathedral
Visit St Patrick's Cathedral by 5.20pm on Friday to hear the daily service, Choral Evensong. The service will last approximately 40 minutes, and following Evensong, there will be guided tours of the Cathedral starting at 6pm. The last tour will take place at 9pm.
For more information, visit www.stpatrickscathedral.ie
The Liberties and Francis Street Culture Night Events
The Constant Knitter will have embroidery and knitting workshops and demonstrations from 6pm.
Mary Ruth Walsh's new solo exhibition at the Cross Gallery is open from 5pm.
Gallery Zozimus's Culture Night programme includes an exhibition of ceramics by Patrick Colhoun, and an urban art demonstration by well-known street artist FINK.
Dublin Food Co-op in Newmarket Square will be a hive of activity with installations, performances, gigs, crafts, and vegetarian food!
Four-piece band Landless will be performing at the Kevin Kavanagh Gallery from 7pm.
Our next door neighbours Oxfam Home will have an evening of bite-size films recounting inspiring tales of people overcoming adversity.
Diagrams, a mixed media show by seven Irish and Northern Irish artists based in Belfast, Dublin and London will be on show at Pallas Projects.
And that's not all! Full details of all the Culture Night Events going on in the Liberties and Dublin 8, click here: http://www.culturenight.ie/tax_dublin_events/liberties-historic-quarter/
Follow Culture Night on Twitter and Facebook and join the conversation using #loveculture #revolvesaroundyou.