Home
»
DHR News
»
Clients
»
New research shows over half of Gen Z show strong interest in working in the public sector or for themselves
November 12, 2019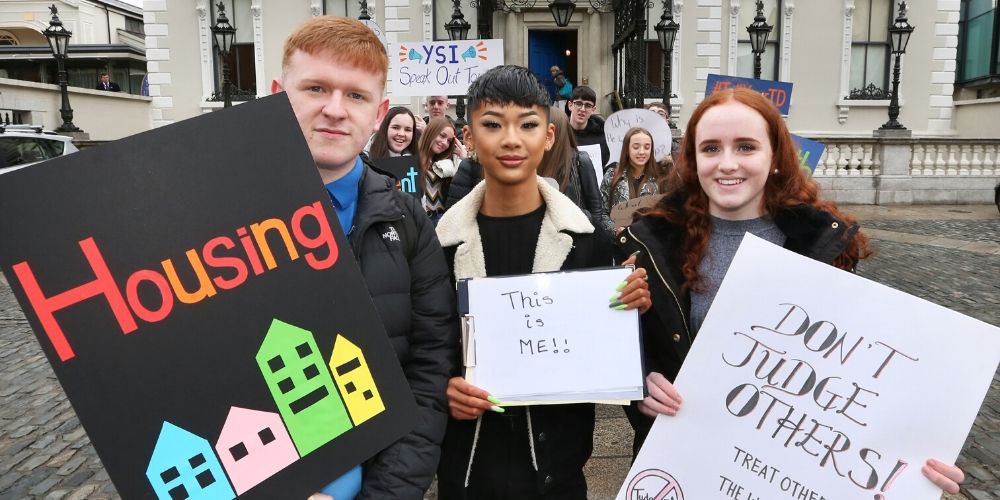 New research shows over half of Gen Z show strong interest in working in the public sector or for themselves
Young people in Ireland would like to work in the public sector, or to run their own business. That's according to new research published by Young Social Innovators (YSI), which was carried out as part of the Young Social Innovators / Amárach 'Gen Z Index.'
It is the third wave of findings to emerge from a partnership between Ireland's largest social awareness and active citizenship and education programme, Young Social Innovators, and market research and data specialists, Amárach Research. The research measures annually the sentiment of Generation Z young people aged 16 to 21 years.
The primary research in the YSI / Amárach 'Gen Z Index' was launched in May and concerned the cohort's overarching mood and ambition, while supplementary research published in July looked specifically at smartphone usage and attitudes towards social media among Gen Z.
A desire to make a difference 
According to the YSI / Amárach 'Gen Z Index,' 27% of young people would like to work in the public sector, while 26% expressed a desire to run their own business. When asked what the greatest sign of a successful life would be, 39% said making a difference to their community or world.
Speaking at the announcement of the findings, CEO of Young Social Innovators, Rachel Collier said: "YSI has observed an increasing level of civic participation, political awareness and social obligation among Ireland's young people across a range of pressing issues. It is exciting and inspiring to watch young people come to view themselves as influencers and change-makers, and feel empowered and enabled in their capabilities. It is satisfying to see this borne out by the current wave of research, which demonstrates the extent to which Generation Z want to lead lives which effect positive change in the world around them.
"What is particularly interesting is the way in which this drive to do good may shape their future choices vis-a-vis employment and the labour market. If there is a strong interest in the public sector as the research suggests then our public sector must be accommodating, and display a dynamism which can attract and retain young people's talent.
"Similarly, the significant preference shown by young people for running their own businesses is reassuring insofar as it suggests they are creative, enterprising and ideas-driven. It is an expression of their ambition to take matters into their own hands, addressing them on their own terms.
"When one also appreciates that the desire for financial security (20%) is almost half that of a sense of duty to make a difference (39%), it suggests that Gen Z are attracted to, and driven by more than just work perks and wages. Perhaps this finding might spark some reappraisal among larger companies who have yet to consider their stakeholders over profits."
Trades and apprenticeships
The research also highlights the extent to which males (14%) are more likely to enter a trade or apprenticeship, compared to females (1%).
Ms Collier added: "Sadly, the finding around trades and apprenticeships is unsurprising, and represents a microcosm of the national situation. In the course of its work in this particular area, the Joint Oireachtas Committee on Business, Enterprise and Innovation recently discussed, that of 15,500 apprentices in Ireland, a mere 2% were held by women. Plainly, more needs to be done to encourage and enable our young women and girls to pursue apprenticeships and trades, and to overturn the stubbornly resilient stereotype that women are somehow not suited to such roles.
"I would also suggest that the media unfairly prioritises higher education in the news agenda. Perhaps, if the full range of options available to young people post-secondary school was given more equal billing, young people would be more aware, and feel more able to pursue a more diverse range of opportunities upon finishing school. Indeed, young people themselves already feel this to be the case, with 83% of Gen Z agreeing that too much emphasis is placed on higher education."
Brain drain
Despite young people's aspirations and ambitions to make a difference, it remains to be seen if such efforts will take place at home, with 57% of those surveyed saying they think they will work or live outside of Ireland in the future.
Associate Director with Amárach Research, Sarah Rooney said: "Gen Z are coming of age in an era where the world is more interconnected and easily accessible than ever. While time spent abroad can be beneficial to an individual's professional and personal development, as well as to their outlook and worldview, this particular finding should be cause for some caution among employers and policy-makers. It is not unreasonable to suggest that it pre-empts a brain drain in the labour force, a phenomenon this country is already seeing play out in some sectors, such as teaching, or medicine.
"Moreover, this research was carried out at a time of relative economic prosperity. Should the country face into another downturn, then young people may feel more compelled to leave Ireland. Finally, should this expression by young people be realised, it should serve as a reminder to future governments of the need for incentives to draw our young people home, encouraging them to return with the unique skills, learning and insights they have gained along the way."
The research for the YSI / Amárach 'Gen Z Index' was conducted in March and April 2019 during a number of Young Social Innovators 'Speak Out' events. Young people were also invited to engage with the research online. Further supplementary research – dealing with education and jobs preferences among young people – will be published later this year as the final instalment in the 2019 YSI / Amárach Gen Z Index. The research sample size comprised 458 young people.