April 22, 2021
Irish adults consuming 'more' news, Whatsapp the winner
DHR continues to work with Amárach Research in tracking the habits and behaviours of the public during the pandemic. To this end, we added several questions to the Amárach Research March Omnibus. We will be sharing the findings with  over the coming weeks, starting with media consumption patterns.
A total sample of 1,099 was achieved with quotas set on gender, age, social class and region to achieve a sample aligned with national population. Field work was conducted between Wednesday, 24th and Friday, 26th  March.
Irish adults are slow to fatigue from the fast-moving news agenda of the last twelve months. As evidenced in the latest wave of findings, and since DHR began tracking media consumption habits in May 2020, more news is being consumed across all sources. We are avid and dedicated followers of current affairs, even – or perhaps especially – when the headlines are frequently grim, or we are resolutely holding out for an elusive good news story. Generally, though, the findings suggests that people are not switching off: some are resuming to more normal patterns of news consumption (radio listenership is going back to 'normal', for example), but it does not appear that people are switching off or fatigued.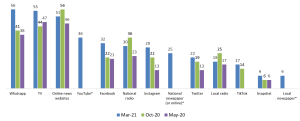 In this latest wave of research, consumption of more traditional outlets has been mixed. Television has enjoyed a more than ten point increase (+11%) as a source of news, while national and local radio have both experienced declines of six per cent. In the case of radio, this is likely a blip. Irish people are traditionally loyal radio listeners, borne out over time by research from the likes of Reuters. The research does not examine radio listenership more generally. There's hardly any change in those consuming less news, and this is an important point.  For something like local radio, they are still maintaining higher audience levels, but not growing new audiences in the way that television is, for instance.  The same can be said for online news websites.
The biggest development in this wave of research surrounds Whatsapp. With an increase of 15 per cent (since October), the instant messaging platform has overtaken online news websites like TheJournal.ie and IrishTimes.com as the most popular source of news among Irish adults, and has been doing so for as long as DHR has been tracking people's media consumption habits. The platform allows the easy sharing of information among groups and individuals, suiting a cohort that may be spending more time on their phones throughout the extended lockdown. This wave of research did not examine the kinds of news / information being shared on the platform.
The reliability of stories spread on the platform cannot be guaranteed and Whatsapp has been identified as a platform through which disinformation and conspiracy theories can be easily circulated. Much has been made about the rise of such dubious and dangerous content during the course of the pandemic, in which nefarious actors exploit often well-meaning people's legitimate concerns surround public health measures through fake news.
The growth in Whatsapp, and whether or not this is something to be worried about, is best appraised against the consumption of more traditional news outlets. While an increase in the former needn't necessarily be worrying in and of itself, there may be greater cause for concern if this increase takes place alongside a decline in the consumption of more traditional outlets where stories are fact-checked and verified.
Interestingly, the biggest increase in the use of Whatsapp as a news source was among those aged 55+, with 67 per cent of that age cohort turning to the platform. Research has shown that a lack of digital literacy could be a major factor in the sharing of fake news by older adults.
In the realm of social media, use of Facebook (+10%), Instagram (+7%) and Twitter (+3%), TikTok (+3%) and Snapchat (+3%) have all increased in this latest wave of research. These results suggest that late-stage pandemic 'doom scrolling' appears to be real and present phenomenon among Irish adults, as people seek reprieve from offline monotony through digital means.
The increase on Facebook is somewhat surprising for a platform anecdotally seen as tired by many. However, the biggest increase in its use by age is among those 55+. Along with this age-group's increasing use of Whatsapp, it suggests that a certain generation of Irish adults may, increasingly, feel more at ease on select social media platforms. The response by young people will be something to watch, with anecdotal evidence suggesting many are generally antagonistic towards older people who colonise 'their' platforms. Already, so-called 'boomers' have amassed millions of followers on TikTok.